BLASTER PASS (VW ver.)
How to purchase and use the BLASTER PASS for faster unlocking.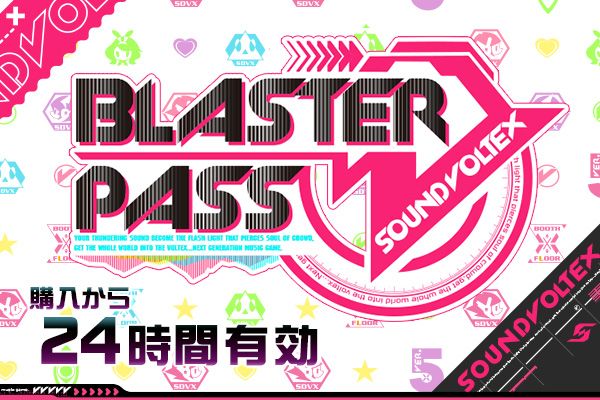 Note: This guide was for SOUND VOLTEX VIVID WAVE. See here for the EXCEED GEAR version of the guide.
Introduced in January 2020, the BLASTER PASS is a time-limited item which speeds up and simplifies progress towards the game's various unlock systems. The pass can be bought for ¥550 from the e-amusement store here, via PASELI.†
Specifically, the pass lasts for 24 hours from the time of purchase and has the following effects:
The BARRIER RANK for BLASTER GATE and Ω DIMENSION is lowered to ½-star, making the gauge significantly easier.
BLASTER ENERGY gain is doubled, making it quicker to hit EXTRACK in standard play modes.

Note that BLASTER START does not fill the BLASTER ENERGY gauge, and thus is unaffected by this perk.

BLASTER GATE damage is multiplied by 2.5.
HEXA DIVER damage is multiplied by 1.5. It also enables the ALTERNATE RATE SYSTEM, i.e. if you fail the HEXATIVE RATE gauge you automatically switch to the regular EFFECTIVE RATE gauge and keep on playing.
The above means that the BLASTER PASS can be useful in the following situations:
You have a lot of BLASTER GATE charts left to unlock and can make use of the 2.5x damage multiplier.

Note that all charts unlocked via BLASTER GATE are level 15 or higher, with the vast majority of them being ≥ level 17, so this perk is less relevant for beginners.

You don't want to have to play easier song difficulties in order to first reduce the BARRIER RANK for higher difficulties in Ω DIMENSION.
You're having trouble unlocking songs in Ω DIMENSION on 1-star BARRIER RANK, and would benefit from the easier gauge.
You want to require less shots to unlock a song in HEXA DIVER (on average, one less shot per song).
You are unable to clear a chart on HR1 in HEXA DIVER, and don't mind repeatedly failing the ARS five times (on top of the initial damage on lower difficulties) in order to unlock the chart.
In order to get the most out of the BLASTER PASS, you'll likely want to use the more expensive BLASTER START mode, since that allows for 2 shots at BLASTER GATE then 1 shot at EXTRACK (for Ω DIMENSION, HEXA DIVER, a third shot at BLASTER GATE or some other EXTRACK-specific song unlock criteria).
If you have purchased the pass, you can check whether it's still active and when it'll expire from your profile here, or at various screens that'll come up in-game. Note that the expiry time listed is in Japan time.
---
† A PASELI purchasing guide may be added to this blog in the future, but in the meanwhile you can charge PASELI from this page, then choose the amount you want to charge. The next screen will ask for the payment method — クレジットカード (credit card) should be sufficient for most people. For a PASELI guide currently available, see bemanistyle's guide here.