BLASTER PASS (EG ver.)
How to purchase and use the BLASTER PASS for faster unlocking.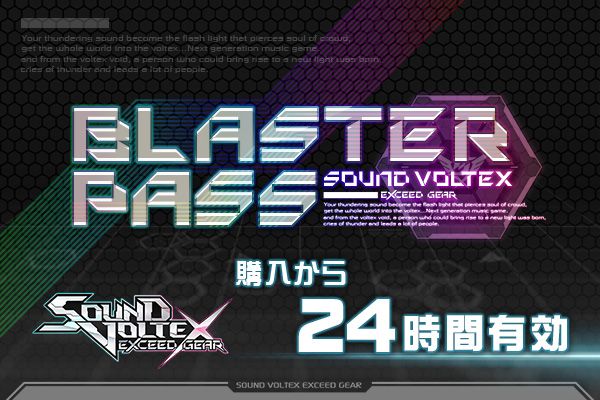 Last updated: Oct 2022
BLASTER PASS is a time-limited item which speeds up and simplifies progress towards the game's various unlock systems. The pass can be bought for ¥550 from the e-amusement store here, via PASELI.†
Specifically, the pass lasts for 24 hours from the time of purchase and has the following effects:
For songs in BLASTER GATE and Ω Dimension, just playing the song once will unlock it, instead of needing to clear the song or play it 20 times.
BLASTER ENERGY gain is doubled, making it faster to hit 100% BLASTER GAUGE on standard credits.
HEXA DIVER damage is multiplied by 1.5. It also enables the ALTERNATE RATE SYSTEM, i.e. if you fail the HEXATIVE RATE gauge you automatically switch to the regular EFFECTIVE RATE gauge and keep on playing.
AP earned during arena event periods is increased for non-arena modes as follows:
| Game mode | AP normally | AP with BLASTER PASS |
| --- | --- | --- |
| LIGHT START | 200 | 1000 |
| STANDARD START | 240 | 1200 |
| PREMIUM TIME START | 400 | 2000 |
| BLASTER START | 400 | 2000 |
| MEGAMIX START | 500 | 1000 |
| (Rolling VALKYRIE GENERATOR once) | 300 | 1000 |
The above means that the BLASTER PASS can be useful in the following situations:
You are having trouble clearing a song on BLASTER GATE or Ω Dimension in order to unlock it, and don't want to play it 20 times.
You are unable to clear a chart on HR1 in HEXA DIVER, and don't mind repeatedly failing the ARS (on top of the initial damage on lower difficulties) in order to unlock the chart.
You want to require less shots to unlock a song in HEXA DIVER (on average, one less shot per song).
You want to unlock items in ARENA STATION more quickly during arena event periods.
In order to get the most out of the BLASTER PASS, you'll likely want to use the more expensive BLASTER START mode, since that allows for 1 shot at HEXA DIVER and 2 shots at BLASTER GATE/Ω Dimension in the one credit.
If you have purchased the pass, you can check whether it's still active and when it'll expire from your profile here, or at various screens that'll come up in-game. Note that the expiry time listed is in Japan time.
---
† A PASELI purchasing guide may be added to this blog in the future, but in the meanwhile you can charge PASELI from this page, then choose the amount you want to charge. The next screen will ask for the payment method — クレジットカード (credit card) should be sufficient for most people. For a PASELI guide currently available, see bemanistyle's guide here.