ARENA BATTLE
How the ARENA BATTLE mode introduced in SOUND VOLTEX EXCEED GEAR works.

Last Updated: Oct 2022
ARENA BATTLE is a matching mode added in SOUND VOLTEX EXCEED GEAR only available on Valkyrie model cabs. In this mode, 2–4 players each nominate tracks to be played and compete against one another. Initially only local matching was possible, until the 2nd season of EXCEED GEAR extended this mode by adding online arena events, similar to the ARENA mode in the beatmania IIDX series.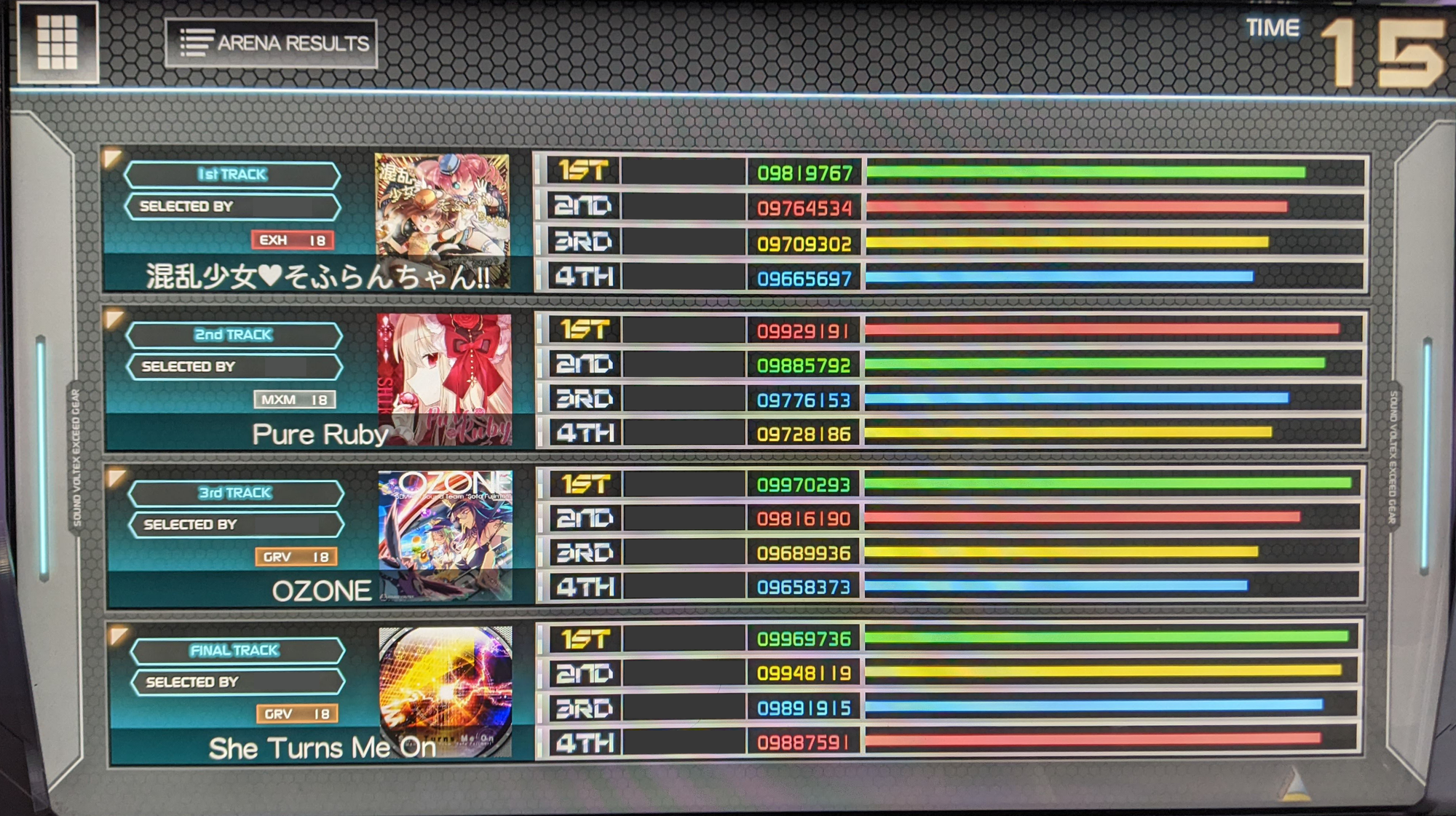 Modes
There are four ways to play ARENA BATTLE.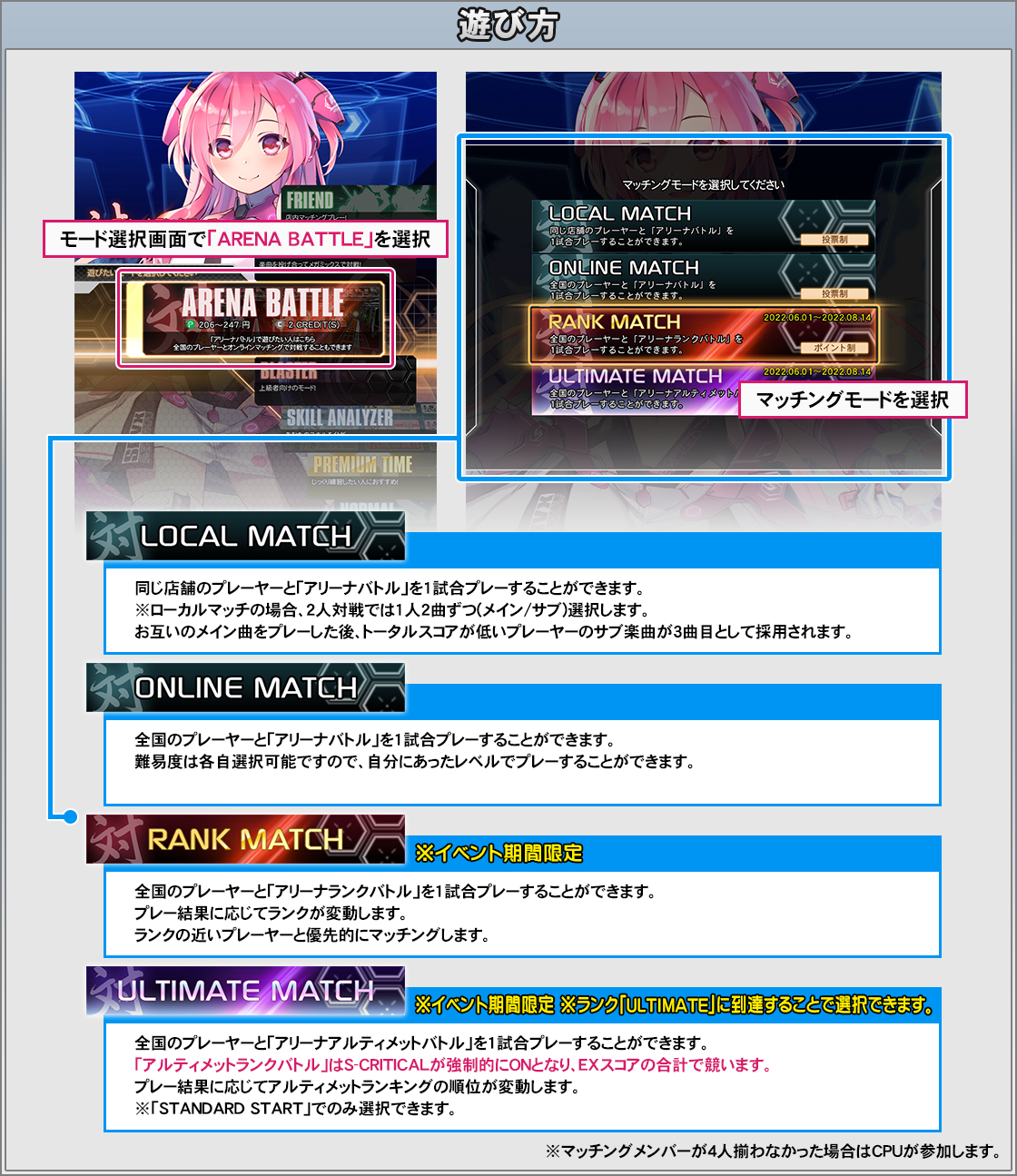 LOCAL MATCH: Battle players in the same arcade as you. For 2 players, each player selects two songs (main + sub), and after both main songs have been played the sub song of the losing player will be used for the third and final song. For 3 players, players select one song each, also for a total of three songs.
ONLINE MATCH: Battle players online. Players are free to choose which difficulty to play.
RANK MATCH: Only available during event periods. Battle players online in an Arena Rank Battle, with play results affecting your rank. You'll be matched to players as close to your rank as possible.
ULTIMATE MATCH: Only available during event periods, for players at ULTIMATE rank (U4 or higher), and only usable with STANDARD START. Battle players online in an Arena Ultimate Battle, which enforces the use of S-CRITICAL and uses EX score for scoring. Play results affect your placement in the Ultimate Ranking, with your placement after the event ends determining the special title you receive.
For online modes, if four people aren't able to match together, the remaining slots will be filled with CPUs. In 4-player battles, players select one song each for a total of four songs, one more than a 2- or 3-player LOCAL MATCH.
Rule Systems
There are two types of rule systems used in arena to determine player rankings:
Score system: Players compete for the highest total score across all songs.
Point system: Players receive points based on their ranking after each individual song, and compete based on total points received by the end.
For LOCAL MATCH and ONLINE MATCH, the rule used will be decided by a vote. For RANK MATCH, the rule system for the arena event is decided beforehand.
Score Results
After each song you'll have a short amount of time to view your score result screen, which can be visited by pressing both FX buttons at once.
Ranked Arena
For ranked battles, the chart below shows the list of available ranks and the VOLFORCE of players that start at that rank. Note that all players at VF 19.750 or higher start at S1, and nobody starts at ULTIMATE rank.
Ranks below U also have max level restrictions for the songs you can choose, as listed in the レベル制限 column.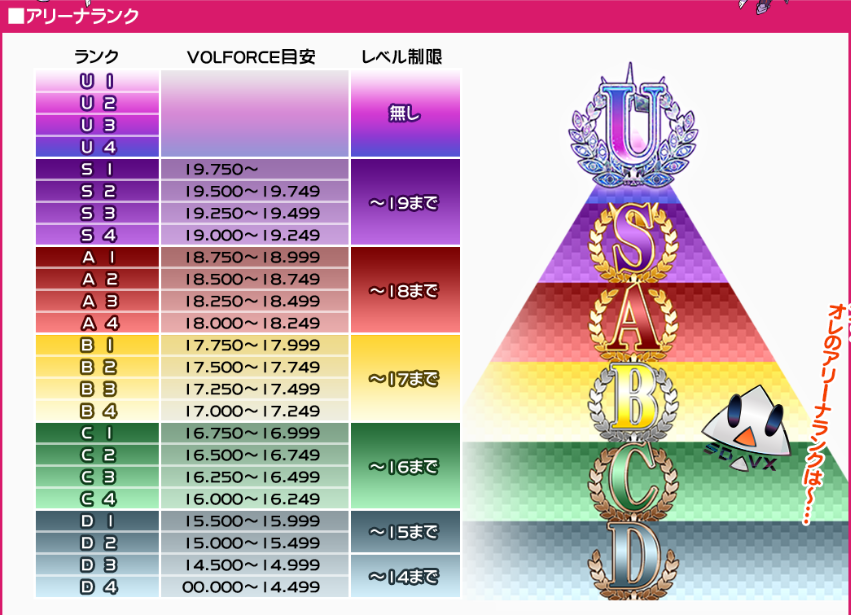 Players start out with their ARENA RANK bar half-filled. If the bar is filled then the player goes up a rank, and if the bar is depleted then the player goes down a rank, starting with a fresh half-filled bar at their new rank.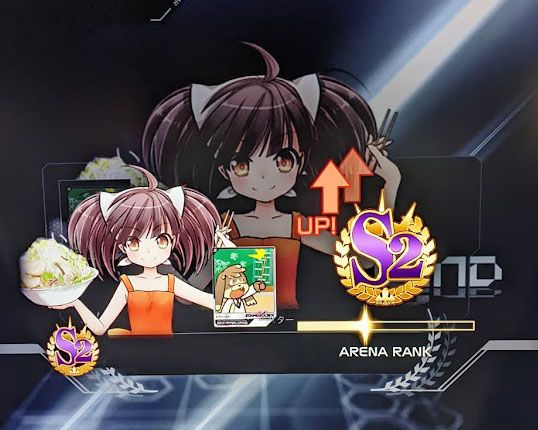 The better the placement the more rank points you get to fill the bar, and conversely the worse you do the more you lose. There is also a consecutive wins bonus that boosts the number of rank points you get.
ARENA STATION
During event periods, the ARENA STATION shop will be available from the MY ROOM screen, allowing limited-time songs, charts and other extras to be purchased using ARENA POWER (AP) points.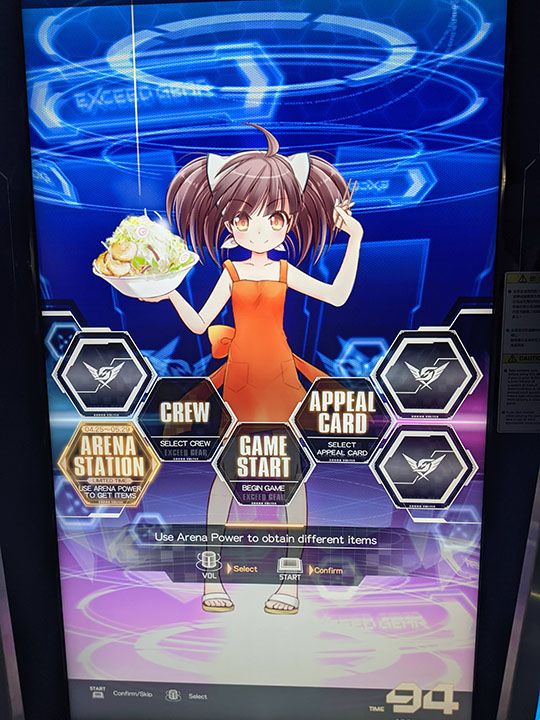 AP is obtained by playing during the event period, and disappears after the event ends. The amount of AP obtained is as follows:
| Matching mode | ARENA START | STANDARD START |
| --- | --- | --- |
| LOCAL MATCH, ONLINE MATCH | 500 AP | 600 AP |
| RANK MATCH | 1000 AP | 1200 AP |
| ULTIMATE MATCH | - | 1200 AP |
| Start mode | Obtained AP | Obtained AP with BLASTER PASS |
| --- | --- | --- |
| LIGHT START | 200 AP | 1000 AP |
| STANDARD START | 240 AP | 1200 AP |
| PREMIUM TIME START | 400 AP | 2000 AP |
| BLASTER START | 400 AP | 2000 AP |
| MEGAMIX BATTLE START | 500 AP | 1000 AP |
| (Rolling VALKYRIE GENERATOR once) | 300 AP | 1000 AP |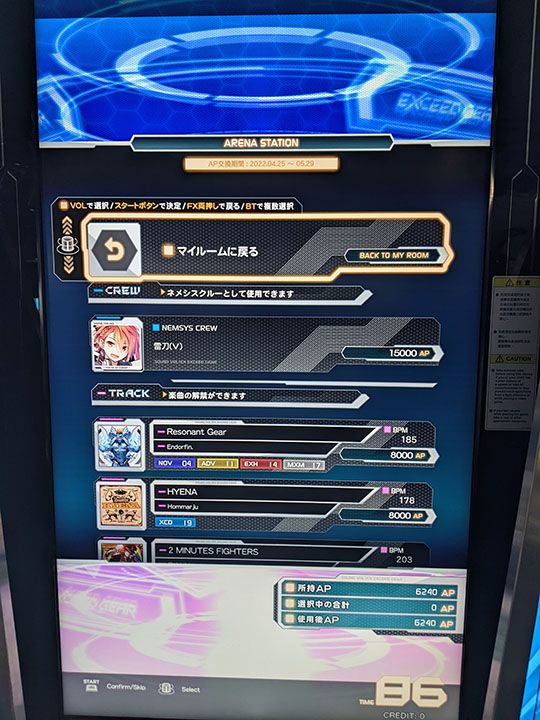 ---
Historical Notes
Arena used to skip the MY ROOM screen, meaning that you couldn't play arena and buy from the ARENA STATION in the same credit. This was fixed partway through the first arena event.
The score result screen was initially missing, and was added halfway through the first arena event. However when it was added there were two bugs: 1) the player's SKILL ANALYZER badge would swap with another player's, and 2) in many cases the personal best score difference would be erroneously displayed as +00000000 no matter what the previous personal best was.
In the first arena event, there was only a single U rank above S1. This was later expanded into U1–U4 ranks.