Bemani 2022: Ichika's Gochamaze Mix UP!
Details about the 2022 Ichika crossover event for BEMANI rhythm games.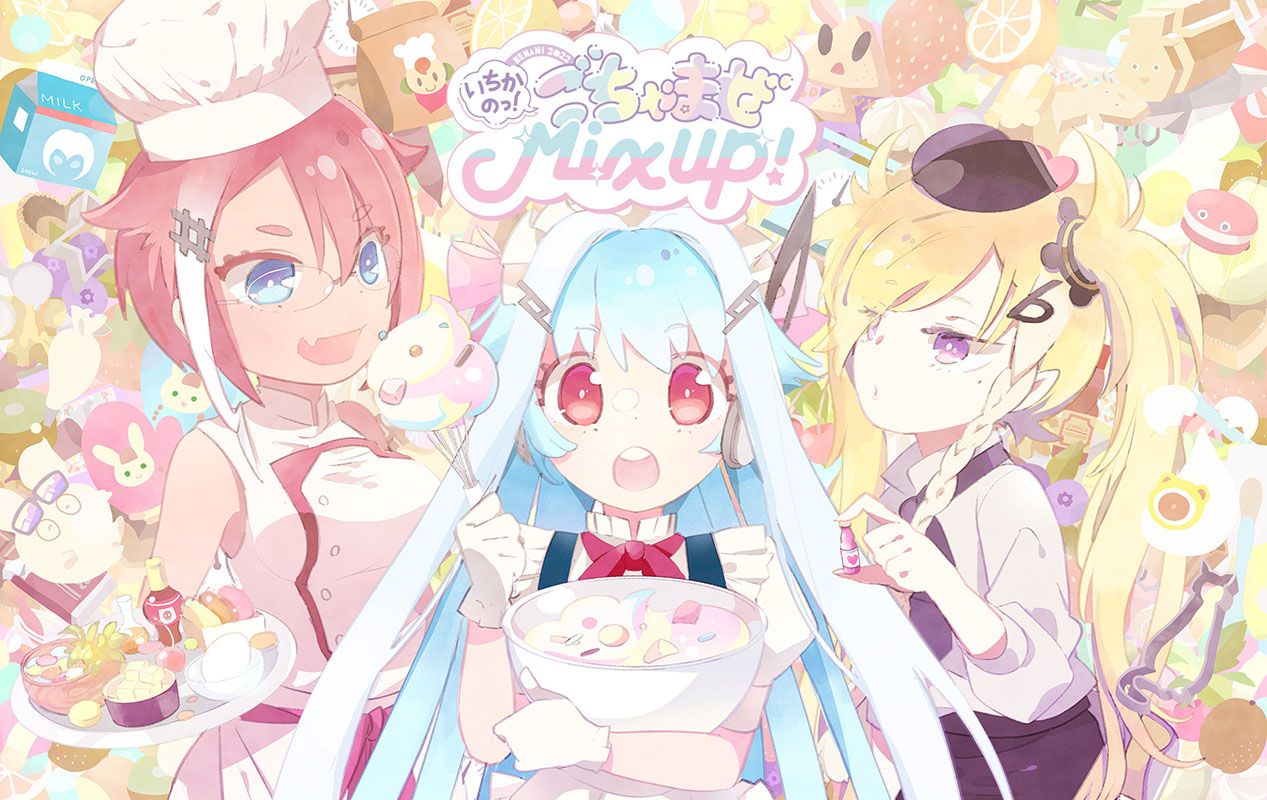 Last updated: Nov 2 2022.
The yearly Ichika BEMANI crossover event is here again, and this time it's mixing-themed (ごちゃまぜ / gochamaze = "mix"). The event will run from 2022-11-01 (Tues) 10:00 to 2023-01-11 (Wed) 23:59 JST.
How the Event Works
The eight participating BEMANI games each have a spot in this predefined circle: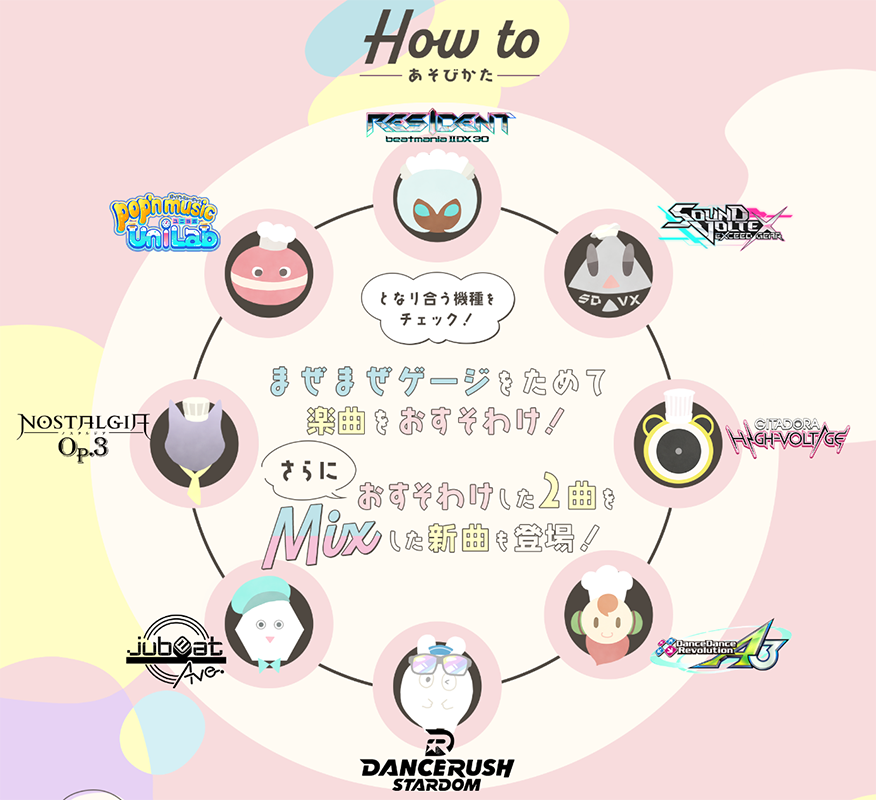 As we'll see, this configuration determines which games will receive songs from which other games.
Step 1: Blue Gauge
Gauge needed: 800 per game
Playing a game will fill the blue gauge for that game. It will also fill the gauge for other games, with the fill amount lessening the further away the game is.
For example, if you play one light start credit of SDVX (100 gauge points), then:
Its neighbours (IIDX and GITADORA) get 33 gauge points,
The games two away (pop'n and DDR) get 15 gauge points,
The games three away (NOSTALGIA and DANCERUSH) get 8 gauge points, and
The game on the opposite side (jubeat) gets 3 gauge points.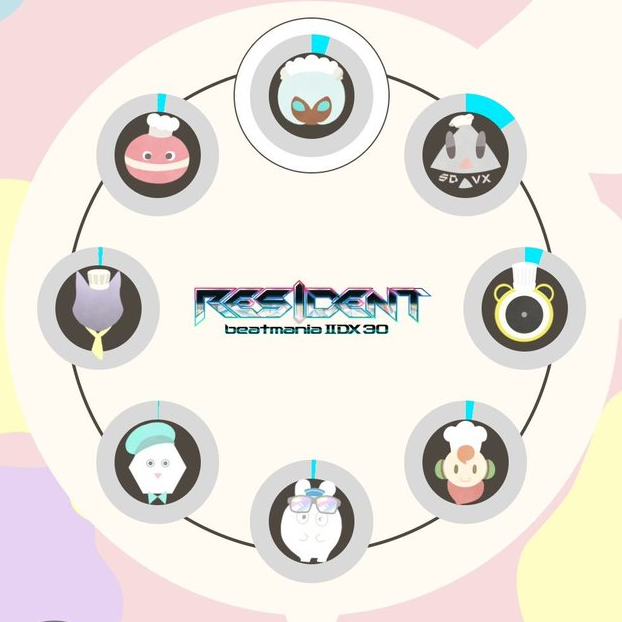 When the blue gauge for a song hits max, you can click the おすそわけ / osusowake = "Share" button on the site to make a song from that game unlockable in its neighbouring games. For example, if the GITADORA gauge is maxed out, then clicking the おすそわけ button would unlock a GITADORA song for its neighbours, SOUND VOLTEX and DanceDanceRevolution.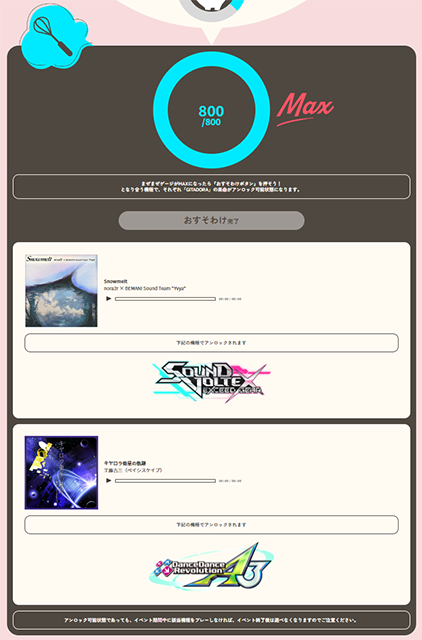 ⚠ Note: You need to play the relevant game within the event period to actually complete the unlocking of a song, otherwise you won't be able to play the song after the event ends. Don't forget to do this after clicking the site button!
Step 2: Pink Gauge
Gauge needed: 1500 per game pair
Once two neighbouring blue mix gauges have been filled and the corresponding songs have been unlocked, a pink mix gauge for both games will appear.
When the pink gauge for a game pair hits max, you can click the アンロック = "Unlock" button on the site to unlock a new song for both games that is a mix of the songs swapped between the two games in the first step. For example, SDVX and beatmania IIDX swap "I" and "perditus†paradisus" in Step 1, and the unlockable mix song in Step 2 is "[ ]DENTITY".
Like with blue gauges, playing a game will also fill other pink gauges, with the fill amount lessening the further away the game pair is. However, the point values are different this time. For example, if you play one light start credit of SDVX (100 gauge points), then:
The "SDVX × IIDX" and "SDVX × GITADORA" gauges would fill by 100 points,
Their neighbours, "pop'n × IIDX" and "GITADORA × DDR" would fill by 25 points,
The next two along, "NOSTALGIA × pop'n" and "DDR × DANCERUSH" would fill by 5 points,
The two on the opposite side, "jubeat × NOSTALGIA" and "DANCERUSH × jubeat" would fill by 1 point.
Step 3: Purple Gauge
Gauge needed: 1000 per game
This step is unlocked when all previous gauges have been filled. Filling all the new purple gauges unlocks the final new song, "VOLAQUAS". The amount of gauge fill for games other than the one you just played works the same as with blue gauges (i.e. 33% / 15% / 8% / 3%).
If you only main one BEMANI game, then the other steps can be easily completed by playing just that game. However, to unlock and fill all the gauges for this step you'll almost certainly want to get some credits in for a game on the opposite side of your main game, otherwise the unlock will take forever. Boosts may also help (see below).
Earning Gauge Points
Other Game Boosts
Fulfilling a "boost condition" on any of these subsidiary games below will boost the rate at which gauges fill when playing the main BEMANI games. The boost conditions and statuses are listed at the top under the "現在のブースト" ("Current Boosts") dropdown on the unlock status page.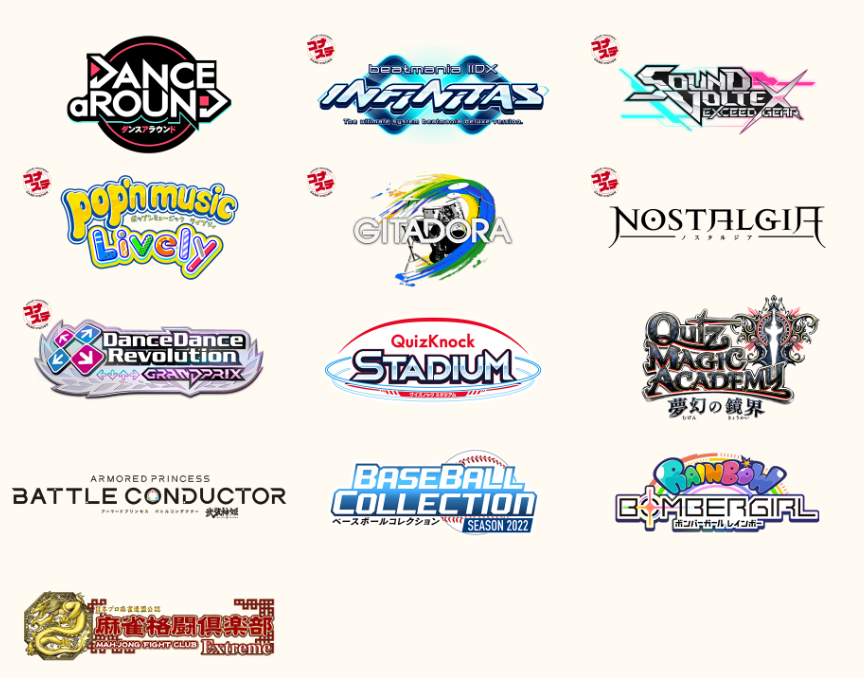 Note that the games with the コナステ icon in the top left are the home Konasute versions of the respective games.
It's a bit outdated, but you can try referring to this past event guide for Quiz Magic Academy. Some of the other similarly available games, like Mahjong Fight Club, might work similar.
Points Per Game
Here's how many points each main game gives (taken from the bottom of the site page):
Game
Mode
Points
beatmania IIDX
Standard Start
100
Premium Start
120
Random Lane Ticket (LIGHTNING MODEL only)
300
Play Recording Function (LIGHTNING MODEL only)
100
Premium Free
(see site)
SOUND VOLTEX
LIGHT START
100
STANDARD START
120
BLASTER START
200
PREMIUM TIME START
200
MEGAMIX START
100
ARENA START
100
VALKYRIE GENERATOR (per roll)
300
GITADORA
Light
100
Standard
120
Deluxe
180
DanceDanceRevolution
Normal Play
100
Premium Play
120
DANCERUSH
LIGHT Mode
100
STANDARD Mode
120
PREMIUM Mode
200
jubeat
Play
100
EXPERT OPTION (1 TUNE)
10
Full Combo Challenge (1 song)
10
Full Combo Challenge (3 songs)
30
Full Combo Challenge (5 songs)
50
Full Combo Challenge (20 songs)
100
Time-limited jbox (per open)
305
NOSTALGIA
STANDARD mode
100
FORTE mode
120
pop'n music
Light Play
100
Standard Play
120
Standard Play + Card
160
Short Play + Card
100
Card Consecutive Pulling (per roll)
80
Merch Campaign
The event has an associated optional acrylic stand campaign that involves earning mix points (completely separate to gauge filling for song unlocking). Details are on this page.
There are two ways to apply for a particular acrylic stand:
The first 100 people to reach 5000 mix points (probably already gone by the time you read this),
100 people drawn from lottery later based on entries, with one entry possible per 1000 mix points.
Applying is done on this page. For the lottery, select the button under "抽選" ("Lottery") for the acrylic stand you'd like to try for, and then choose how many entries to put in + click 同意 to agree.
⚠ Note that this campaign only applies to Japanese Konami accounts, and requires having a Japanese address.
Earning mix points is the same as earning gauge points, except that boosts don't count and the following also give mix points:
Game
Mode
Points
DANCE aROUND
LIGHT Mode
100
STANDARD Mode
120
TRAINING Mode
200
Konasute Pack Purchases
Konasute pop'n music Lively Start Up Selection vol.2
980
Konasute GITADORA HISTORY Pack vol.20
6091
Konasute NOSTALGIA Song Pack vol.8
3036
DanceDanceRevolution (Konasute) Special Song Pack feat. Touhou Project vol.1
800
DanceDanceRevolution (Konasute) Special Song Pack feat. Touhou Project vol.2
800