Proxy Shopping Services
How to obtain merch that only ships to Japan
This is a different sort of guide to usual since it's not SOUND VOLTEX-specific, but it should be useful for obtaining goods from campaigns or for buying merch online if you don't have a friend in Japan to help.
Since SOUND VOLTEX is a Japanese game, this post will mainly focus on Japanese proxy shopping services, especially tenso and ZenMarket as representative examples. There are a lot of proxy services out there, varying in how they work and how fees are calculated.
There's also a list of recommended stores at the bottom of this post, which should give an idea as to what sorts of sites proxies can be used for.
What is a Proxy Shopping Service?
A proxy shopping service helps get goods to your doorstep which you normally wouldn't be able to, because the site in question only ships within Japan.
There are two main ways in which proxy services work:
The proxy gives you a Japanese address, which you provide to online shopping sites (e.g. tenso).
You tell the proxy what you want to buy, and they buy it for you (e.g. ZenMarket, Buyee, FROM JAPAN). Some more niche sites also do offline shops (i.e. physical brick-and-mortar stores) or even events such as Comiket, though those tend to be way more expensive.
In my experience, the former method is more flexible as to where you can receive items from, and is absolutely necessary for items that sell out quickly since getting the proxy to buy for you takes time. On the other hand, the latter method is very useful for bypassing payment restrictions, such as needing a Japanese credit card.
In both cases, items end up at the proxy service's warehouse, upon which you receive a notification that the items have arrived. From there you simply organise international shipping from the proxy service to your house. I've left this common part out from the detailed guides below, since it's rather straightforward from there onwards.
Things to Know
Consolidation
Because international shipping can be quite expensive, it's usually more cost-efficient to buy a bunch of items from different places at once, get the proxy service to help consolidate the packages into one big package (for a small fee), then get the big package shipped.
Most proxy services let you keep packages sitting for a month or two in their warehouse, which gives you quite a bit of time to pile up packages before shipping, if you're not in a rush.
Fees and Costs
Here are some common fees and costs associated with proxy services, so you can get an idea of what's involved. Be sure to check the proxy service you intend to use, since fees vary from service to service (or may not even apply).
Domestic Shipping Fee: The cost to get the item shipped from the store to the proxy service's warehouse. Proxies that purchase the item for you will get you to pay the domestic shipping cost involved. If you're using a service like tenso instead, then naturally you'll pay this when you purchase the items yourself.
Service / Usage Fee: Fee for using the proxy service. How this fee is calculated differs from site to site.
(Consolidation Fee): Fee applied if you asked the proxy service to help combine multiple packages into one big package.
International Shipping: The cost to get the item shipped from the proxy service's warehouse to your home – the heavier and bigger a package is, the more expensive shipping will be. Cost also depends on shipping method, with express delivery options being the fastest but most expensive. Some shipping options may also have insurance costs.
(Customs / Tax): May be applied depending on which country you're in.
Shipping Restrictions
Some items outright cannot be shipped overseas, e.g. explosives or radioactive materials. There are also items which may restrict the shipping methods available to you, e.g. devices with lithium batteries. Some sites may also have restrictions on adult goods.
Be sure to check the FAQ of the site you intend to use before purchasing.
How to Purchase Using: tenso
tenso is the biggest Japanese proxy service that hands you an address to use, which gives a lot of flexibility as to where you can obtain items from. However, because tenso receives packages on your behalf, do note that due to Japanese law you'll need to provide proof of identity and address when signing up.
Using Your Address
Once you're signed up and verified, there'll be an address on your My Page.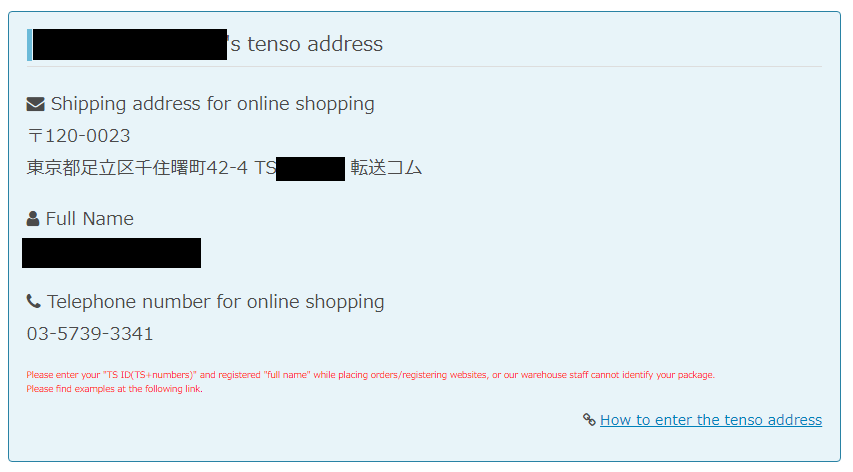 You can now provide this address when shopping on other sites, to get them to ship locally to tenso's warehouse. Make sure you provide the TS number when inputting the address, since that tells tenso that it's your package.
Many sites take different parts of the address as separate fields, so there's a guide for how to enter things in the page linked in the lower-right of the above screenshot. However, personally I find that guide somewhat confusing, so below is my attempt at a version of it. If there are any fields not on here, try an online translator or a dictionary.
| Field (JP) | Field (EN) | Example Entry |
| --- | --- | --- |
| 氏名 or お名前 | (Full) Name | Chateau Loire |
| 姓 | Last Name | Loire |
| 名 | First Name | Chateau |
| フリガナ | Full Name in kana¹ | シャトー・ロワーレ |
| せい or セイ | Last Name in kana¹ | ロワーレ |
| めい or メイ | First Name in kana¹ | シャトー |
| 郵便番号 | Postal Code² | 120-0023 or 1200023 |
| 都道府県 | Japanese Prefecture | 東京都 |
| 市区町村/郡市区(島) | Ward / District / Village / etc. | 足立区 |
| 番地 or 住所 | Address | 千住曙町42-4 |
| 建物名・号室/マンション名 | Building Name / Room Number³ | TS123456 転送コム |
| 会社名 | Company Name | 転送コム |
| 電話番号 | Phone Number | 0357393341 |
| メールアドレス | Email Address | [email protected] |
¹ These fields are because Japanese names are usually written in kanji, but it's not always obvious how the name is pronounced, so the kana acts as a pronunciation guide. tenso recommends using this site to get your name in kana; you can also look up "[your name] in kana" or throw your name into an online translator. The ・ in the full name above separating the first and last names for foreign names is recommended but it won't hurt if you don't have it.
² This is usually the number after the 〒 symbol.
³ The example entry here isn't really a building name or room number, but you do need to stick your TS number + "転送コム" somewhere. If there's no such field, just stick your TS number in with the rest of the address.
How to Purchase Using: ZenMarket
ZenMarket is an example of a site that purchases the items for you. Unlike tenso, these types of proxies typically don't require identity verification. ZenMarket charges a fixed fee per item, so it's more worth it for larger purchases.
Like many proxies, ZenMarket has integrations for popular stores like Yahoo! JAPAN Auctions, Rakuten and Amazon Japan.
Requesting Items
Once you're registered, there's a big + button in the site header you can use to request an item to be purchased. You can also do this from your My Account page. Add a link to the item you wish to purchase, a description of the item and your desired quantity.
After some time, ZenMarket will review the request to confirm prices and availability. If the request is OK, you'll receive a quote and you'll need to pay for getting the items to ZenMarket's warehouse. Once payment's done, ZenMarket will purchase the items for you.
Note that ZenMarket payments work a bit differently to most proxies, since they get you to add funds to your account first. You can add funds before or after you order.
Recommended Stores
Here are some examples of places for SDVX and SDVX-related artist merch that only ship to Japan and necessitate proxy services:
KONAMI STYLE: Official KONAMI merch store.
Yahoo! JAPAN Auctions: Good for niche things, since they tend to end up on auction sites. I've linked the Japanese site here but Yahoo! Auctions is such a common use case that many proxies have tools/integrations that help you bid without needing to know Japanese.
Suruga-ya: Good for second-hand items. Has an English site.
Mercari: Also good for second-hand items and has an English site.
TANO*C Store: Store for HARDCORE TANO*C, but it also has doujin music CDs and merch from all sorts of other artists and games. (Note that Diverse Direct is another option which does offer international shipping)
BOOTH: Owned by pixiv, creators get to have their own storefronts and sell their own goods. Great for purchasing things from specific artists if they have a BOOTH.
FANBOX: Also owned by pixiv, it's a per-month membership platform for supporting creators, just like Patreon. A number of SDVX artists have FANBOXes set up, and some have member-only merch from time to time.
Melonbooks: For doujin products in general (note that parts of the site are R-18).