SOUND VOLTEX Konasute PC Port Major Update
Summary of the announcement for the update to the SDVX PC port on 2022-12-01.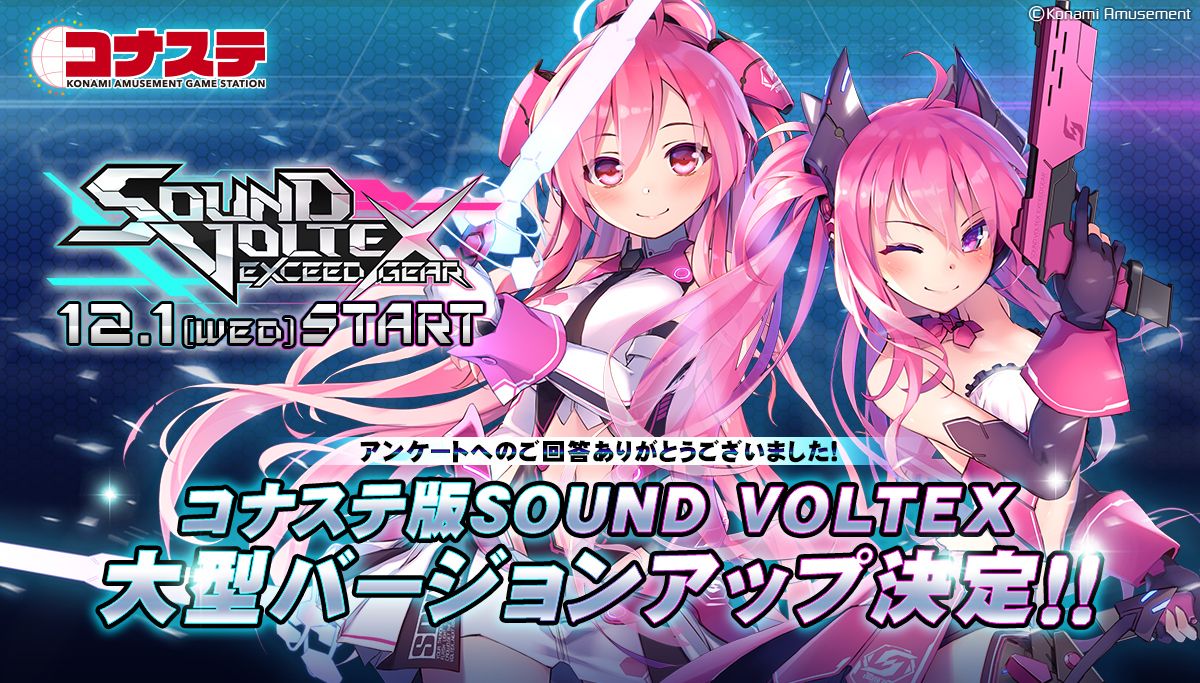 Note: If you're trying to set up the SDVX PC port, see the guide here.
A major update to the SOUND VOLTEX PC port (コナステ版, or Konasute version) will be happening on Dec 1 2021, in response to feedback from a survey months prior. Here's a summary of the official announcement page here.
Version details
The new version (Konasute EXCEED GEAR) will start Dec 2021, and will require an SDVX Konasute basic course subscription as usual.
The subscription cost will be going down from ¥2178/month to ¥1628/month.
The old version (Konasute GRAVITY WARS) will be playable until 2022-05-31.
Maintenance will occur on 2021-11-29 10:00 JST that'll prevent you from unsubscribing from basic course, so if you wish to cancel the monthly subscription make sure to do so before then. Course subscriptions will become available again on 2021-12-01 10:00 JST.
New version features
These features are pretty much all present in the arcade version, and are now being made available for PC.
120fps
Better screen resolution (1920x1080)
RANDOM and MIRROR options
SELF CRASH, QUICK RETRY and AUTO QUICK RETRY from the arcade version's PREMIUM TIME mode
S-CRITICAL timing window
Data that will be carried over to the new version:
Player name
Song scores (the higher score out of Regular and Infinite course scores will be used)
Appeal cards
Crew
Infinite Course song unlock status
Song pack purchases
Data that will NOT be carried over to the new version
Config and option settings
Skill level
In-game currency (blocks + packets)
Konasute tickets
⚠ Tickets will only be usable on Konasute GW, and will not be purchasable after 2021-11-29.
Data that can be linked with arcade
Song scores
Appeal cards
Crew
⚠ Some appeal cards and crew will not be available on Konasute.